Do you feel the autumn? 🍁 The cold season has announced itself. I think that's great! Every season has its place and its own special moments, and it's the same with ChurchTools versions. With the only difference, there are not only 4 of them a year, but up to 12. In version 3.90 we present among others: Actions in Quick Search, some new features and improvements in the Finance module and also the calendar has been improved.
---
Actions in Quick Search
With the introduction of Quick Search, work in ChurchTools has sped up noticeably. Searching for people, groups, songs and wiki pages has been reduced to a minimum.
Version 3.90 now brings actions into the quick search. Almost every menu link in ChurchTools can thus be called directly, with just a few keystrokes. No matter if you want to quickly call up the list of all archived persons or navigate to the CCLI report in the Events module. The quick search takes you there in no time.

---
"Today" better visible
If the calendar is well used and many dates are entered, then it may become a bit more difficult to find today's date.
We have highlighted "Today" better by color, so that the eye is better directed and "Today" is also found.
Also, the calendar always takes you back to "Today" when the page is accessed.
---
Calendar: Addition of title more clear
Using the services in the Events module, information can be displayed directly in the calendar appointment. This is an excellent way to show who is giving the sermon on Sunday.
This addition is automatically applied to the title by ChurchTools. This explanation has been made a little more explicit.
---
Linking the appointments on the start page
The start page lists a lot of information that is relevant to me. This ranges from important wiki pages, to my next services, to appointments and meeting requests. The latter are now better linked on the start page, so that not only the calendar opens, but the proper appointment right away.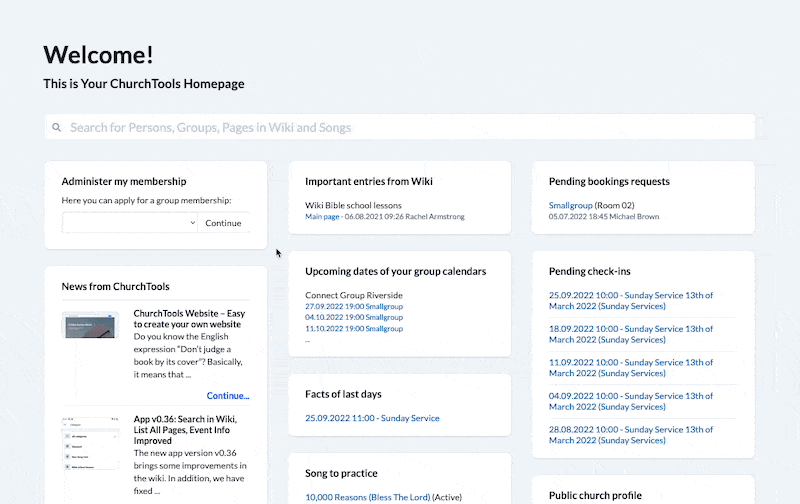 ---
Styling for placeholders
Placeholders in emails are handy to reach many people in a personalized way. However, you could not style these placeholders. Now they can be customized from styling as well.
Improved filter display
In the mobile view of the group homepage, the filters are combined behind an icon to save space.
Group-internal permissions
Group-internal permissions of inactive groups now have no effect.
Newsletter opt-in in subscriber export
In the group subscriber export, the opt-in for newsletters is now also output. This information was missing before, but is necessary for a few use cases. So you can continue to work in Excel and Co. with this information.
Check-in: Check in people
When adding people, they are now checked in directly.
---
Further changes
If this is not enough for you, you will find all changes of this and earlier versions in our Changelog.
We hope you like the new version as much as we do. As always, you may leave praise and criticism in our forum.