The year is still young, but we are already feeling like we are in the middle of it. ChurchTools v3.81 brings improvements to Automatic e-mails, a new feature called Sign up Notifications and we have improved the CSV transaction import.
---
Automatic e-mails
Those who work with groups and registrations surely know about the automatic e-mails. This function allows to send predefined e-mails to a person as soon as he/she gets a certain role in a group. For example, when a person registers.
We have fixed a few bugs in these e-mails and introduced an important change. It is now possible to send an e-mail in the name of the church/ChurchTools installation. Previously, it was necessary to select a leader.
This has the advantage that especially with registration groups that are very similar and are often duplicated, the sender does not have to be set anew each time. This gives more certainty, because whether the e-mail is sent or not now depends solely on whether the e-mail is active.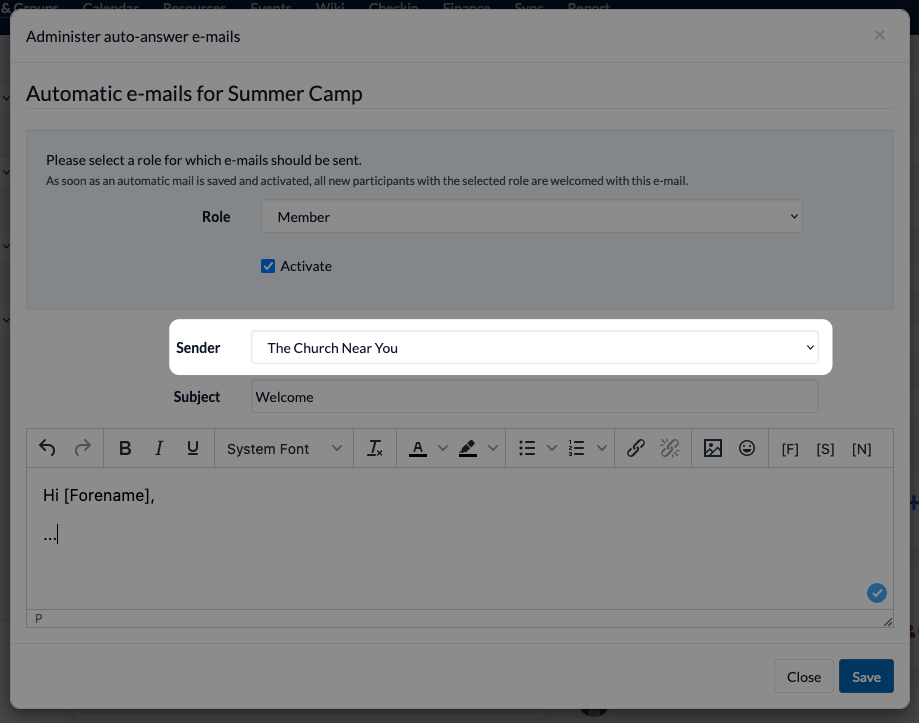 Sign up notification
Whether it's a soccer tournament, a church service with registration, or a church retreat. Whenever a group has an open registration, we want people to sign up for it. It's annoying when the people we want to reach don't even know about it.
For this purpose we have now added sign up notifications. A way to notify certain people who would fit the group according to the group properties (target group, age group, category) with a one-time push message.
All users can conveniently set in the app for which target groups, age groups and categories they would like to receive push notifications. This makes it even easier to invite all sports-minded young people to the Young Adults Soccer Tournament.
Finance: Import of transactions improved
For all cashiers who often use CSV files to import the current transactions into ChurchTools Finance, we have made the import function a bit safer. New validation rules now also check the transaction text and account, so that fewer errors occur during the import.
Permissions for group properties
A small note for administrators: The corresponding settings in the group properties can now be set with the rights "Set up automatic e-mails" and "Administer group chat" without the additional permission: administer groups.
---
Further changes
If this is not enough for you, you will find all changes of this and earlier versions in our Changelog.
We hope you like the new version as much as we do. As always, you may leave praise and criticism in our forum.