In the last few days I had to think about the fact that I still have to do my tax return. Fortunately, I already have all the documents together. Donation receipts are an important part of it and now the topic accompanied me also professionally. With version 3.60 you can now create donation receipts directly in ChurchTools.
However, there have also been some developments outside of the module Finance. The new version comes with a new map view for groups, we have extended the log view with a date filter and the Checkin module shows participant roles.
Create donation receipts
Many churches live on donations, that is no secret. In order for the donors to be able to claim them from the tax office, they need a donation receipt. The topic of finances as such is complex enough, but donation receipts are no less complicated. This is where ChurchTools steps in and wants to simplify the process and support it.
The donor list shows all donors of an accounting year. There it is now possible to create the certificates for individual donors (single persons or married couples) or with one click all certificates can be created fully automatically.
A preview shows the collection confirmation, as it is officially called, as a draft. Here you can see immediately whether any data is still missing, such as the address of the client, or whether the address of the donor may be incomplete. ChurchTools offers a standard template. Every church can download this template and adapt it to its own stylistic preferences.
So far we only have one template for the German tax system. You are welcome to give us a template for your country and we will see if we can adapt it for you.
Checkin: Display and filter participant roles
In two blog posts (Part 1, Part 2) I have presented a workflow how ChurchTools can help you to plan a service with participation restrictions under the current corona conditions. In the forum there was praise and criticism. A frequently mentioned point was the limitation of the module Checkin.
My workflow involved working with different participant roles to maintain a waiting list and a guest list. But the module did not show the roles at all. So how do you check in the right people?
That was a very good point and we would like to improve on it. Especially now, when many churches are looking for a good solution, we don't want to leave anyone alone. With the latest version the participant roles are displayed directly to the person. It is even possible to filter for a specific role. This way, for example, only participants or leaders are displayed.
Map for Groups
In Persons & Groups you will find a map under Persons. There, persons and also groups are displayed. However, this map had a crucial disadvantage: Group filters were not considered. The map is meant for persons and the person filters are taken into account here to filter the displayed persons on the map.
We are now also pursuing this approach for groups. Under Groups you will find a new map view to show groups that have valid meeting points. On this map the group filters are now taken into account. So it is easy to show all small groups or all groups of a group homepage.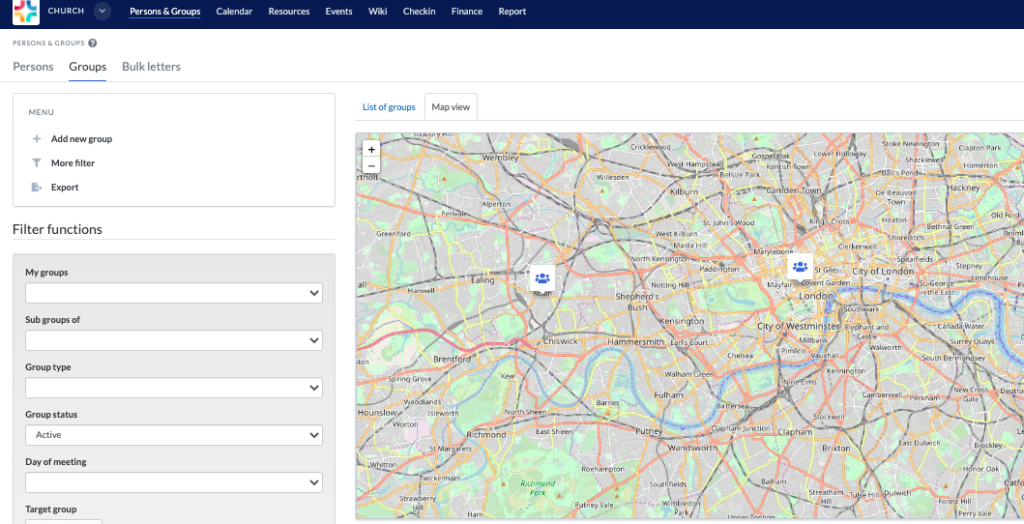 Filtering logs by date
The log view has been extended. We have added a date filter to filter the entries. This makes it easier to narrow down errors and search for specific logs.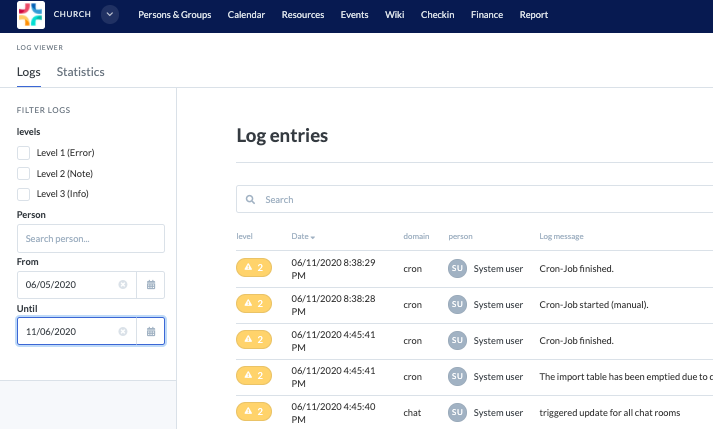 Further changes
If this is not enough for you, you will find all changes of this and earlier versions in our Changelog.
We hope you like the new version as much as we do. As always, you may leave praise and criticize in our forum.