Perspiring I sit in front of the computer and may present the new version to you. Fortunately, it's not a cold sweat, but only owed to the nice weather. Even if the heat doesn't stop at ChurchTools, it won't stop us from releasing a new version for you.
CCLI Report
I'd like to start with a feature that actually came online with version 3.48. But it slipped in so quickly that it didn't find a place in the post at that time. However, it is practical in practice all times and therefore I would like to start with it.
CCLI is probably known to most churches. SongSelect has long made it possible to import songs directly into ChurchTools. This simplifies a lot of work and is an important feature for song management in churches.
But CCLI is also the "middleman" when it comes to reporting the sung hymns and song to CCLI. We took up this process of reporting and built a CCLI report view.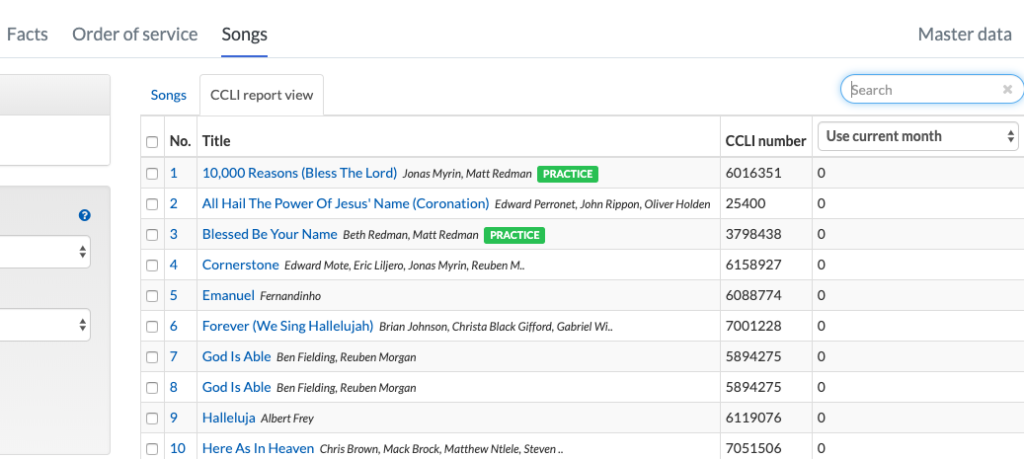 In the view you can see the sung songs with their CCLI number. The dropdown field of the last column allows you to select the month to be considered (current, last, previous month). In the left sidebar we have added more filter options. For example, it is possible to specify a time period or only songs of a certain calendar (as a reminder, each event is linked to a calendar).
The filter options open up new use cases. For example, worship leaders can find out which songs have been sung more in recent months or perhaps not in order to add more variety to the song repertoire.
Display your own appointments
With version 3.49 we added a small but very useful extension to the calendar. From now on it is possible to display only appointments that are relevant for you. What does that mean exactly?
If a church maintains many appointments in different calendars, then the calendar view can very quickly look like a pack of M&Ms. It's colorful everywhere, but you don't know which way it is. Entire calendar categories can be shown and hidden in the personal view, which helps to reduce the number of appointments on the screen.
On the other hand, it is practical to be able to send people a meeting request (help) to appointments in group calendars. This way the respective persons are requested and can accept or decline. Until now, all meeting requests, including those from other people, were displayed here in the calendar.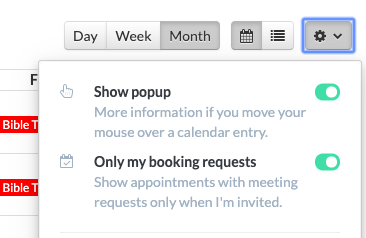 With the new function "Only my booking requests" it is now possible to display only the dates in the calendar:
I was asked for
I have accepted of
where there is no meeting request assigned at all (for no person)
This clears up the view and the relevant appointments stand out from the crowd.
Redirection for Wiki pages
The last feature for today can be found in the Wiki module. New wiki pages are created super fast (help). But with time titles of pages change or old pages become obsolete. To solve this problem we have integrated redirects into the wiki.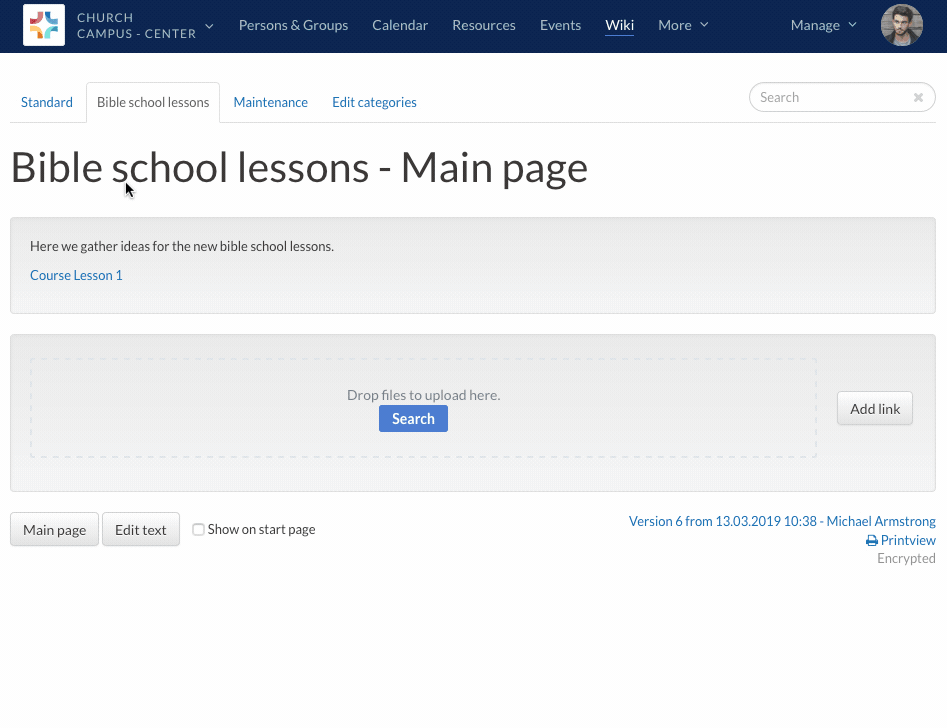 If a wiki page should be renamed or an old page should refer to the new content, then you can now set up a redirection. Just enter the new page name and you're done. If the new page already exists, it is simply referred to; if the page does not yet exist, it is newly created. Additionally you can choose whether the content of the old page should be copied into the new one.
When a user clicks on an old link in the wiki, the user is immediately redirected to the new page with a small note that he/she was redirected from the old to the new page. This ensures that all links in the wiki continue to work and you don't have to search for and replace old links.
Of course it is possible to go back to the old page. There you have the possibility to remove the redirection and use the old page again as a normal wiki page.
Further changes
If that's not enough for you, you can find all changes to this and earlier versions in our Changelog.

We hope you like the new version as much as we do. As always, you can leave praise and criticism in the forum.