What tumultuous times! COVID-19 determines our everyday life and yet I am thrilled to see how churches and congregations see the crisis as an opportunity to try out and use digital possibilities.
But this article is about the new version. We have improved some things for the new group homepage and also the finance module has got new features. Last but not least we have done some improvements on the calendar.
Group homepage: Improvements
The new group homepage has been well appreciated and we look forward to seeing more group homepages in the new design. If your church already uses the new design, share it with us in the forum.
Longer descriptions
With version 3.57 we have increased the limit for a group description. Now it is possible to store longer texts about the group and thus to bring public groups even better into focus.
No one can sign up?! What's going on?
A group can be public. But it can also be open for registrations. The leader can be contacted, etc. There are many ways to use a group. But what if the registration is not displayed? Or the "contact leader" button is missing?
Now ChurchTools displays an information when saving a group, whether there is a misconfiguration and what effects this may have. This will make it easier to set the group settings correctly before a visitor notices.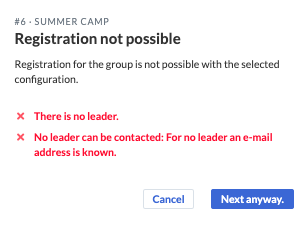 Filtering campuses
Churches that cultivate the multisite idea (one church, many locations) will be pleased that there is now a campus filter on the group homepage. This allows visitors to filter exactly which groups are relevant for them.
ChurchTools Finance
In this release we have also implemented some things of our roadmap. I am proud to present three new features that make accounting easier.
Export transactions as CSV
It was already possible to import bookings using a CSV file. Now it also works in the other direction. Transactions can be exported as CSV file. This gives you the possibility to create your own reports or evaluations, which ChurchTools cannot do yet.
The active filter is taken into account during export. Exporting all transactions of a cost center is therefore very easy.
Lock down transactions
There comes a time when you want to " lock down " a transaction. This means that the transaction is virtually set in stone and cannot be edited or deleted afterwards.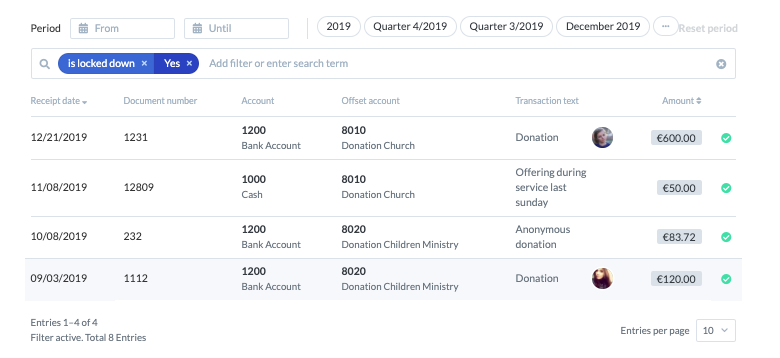 In the transaction journal, a locked transaction is marked with a green check mark symbol. The transaction can still be viewed, but it can no longer be edited. A filter has also been added with this version so that you can filter all locked or not yet locked transactions.
Last but not least, when closing an accounting year, it is now also possible to lock down all transactions not yet locked.
Spouses as donors
This feature was often asked for, now it is here: It is now possible to record donations for spouses. In the transaction mask you can now assign the spouse as donor. Prerequisite is that the relationships in Person&Groups are properly maintained.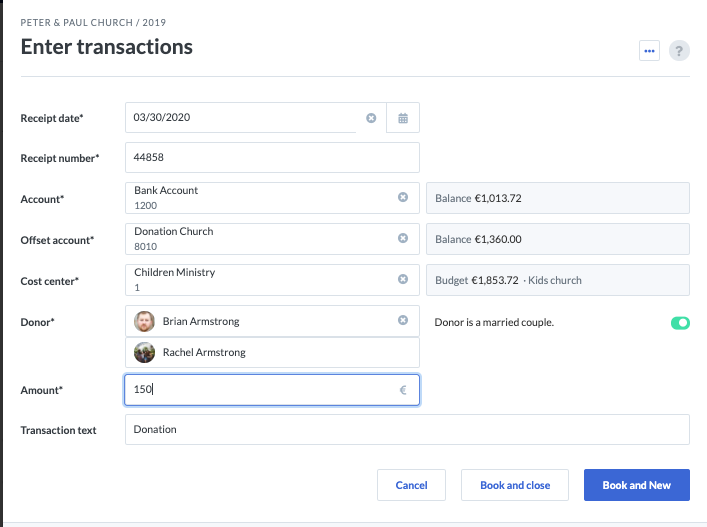 Calendar updated
The calendar is an important element for the church activities. If we don't know what takes place and when, it becomes quite difficult to keep track. Therefore we have worked on redesigning the sidebar and the dialogues to make them easier to understand.
Further changes
If this is not enough for you, you will find all changes of this and earlier versions in our Changelog.
We hope you like the new version as much as we do. As always, you may leave praise and criticize in our forum.